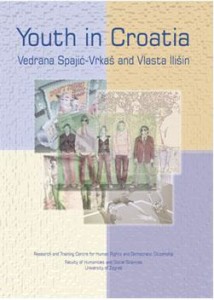 Proni Regional Project on Youth: Youth in Croatia 2002 (Spajić-Vrkaš, Ilišin)
Zagreb, 2003
Summary
The research was carried out in the context of a regional research project on youth under the auspices of the PRONI institute from Sweden. The main objective of the project was to provide empirical data on life, needs, attitudes and aspirations of young people as a means of assisting the process of youth policy review. The process was initiated by the Council of Europe with a view to strengthen youth participation in democratic changes of the countries in the region. This report is the most recent one in a long and well-established tradition of studying youth issues in Croatia. Therefore, it often includes comments and references to earlier research findings for the purpose of determining the changes in youth trends, as well as for the purpose of validity testing of the present data. On the other side, the data presented in this report may, together with earlier studies, be used as a reference point in the process of reviewing the National Program of Action for Youth, as well as in developing a comprehensive, efficient and youth – centred national youth policy. The core of the findings is probably that the criteria for the determining the upper – age level of youth period should be reviewed and extended to include those who are 30 years of age. The fact that more and more young people remain longer in education, that they decide to marry and have children later in their life, that they consider changing their job, and probably, if possible, enrol in re-training programmes for that purpose, as well as they desire to reach full independence by relying to their own abilities and endeavour, speaks in favour of the need to redesign our traditional approaches to the youth upper-age limits. Overall examination of the above results may be seen as an indicator of a process of relative homogenisation of young people in today's Croatia – certainly, within the issues here examined and at the present level of analysis. There is no doubt that young people here described have many characteristic in common, especially in reference to their marital status, family pattern, housing conditions, parent's educational background, attitudes towards present and future life, professional and educational aspirations, desired accommodation, sources of information, satisfaction with free time, positive feelings about themselves, feelings of security in relation to their parents and friends, as well as in reference to their abuse of psychoactive substances. They also share their desire for autonomy and independence, and for the recognition by the society at large, as well as their dreams of a more just society in which life opportunities would match individual abilities and endeavour. When they differ, it is mostly due to their varied socio – professional status and age. Residential status, father's educational background, gender, and regional background are less important. The tendencies that have been documented suggest that youth are divided primarily by their actual social status and stage of attained maturity, and only secondarily by socialization factors, such as social origin in a narrow and broad sense of the term, and a gender socialization patterns. However, further analysis of data should disclose youth dominating trends with more accuracy.
Mladi u Hrvatskoj (Spajić-Vrkaš, Ilišin)
Zagreb, 2003
Sažetak 
Istraživanje je rađeno u sklopu regionalnog projekta PRONI Instituta za socijalno učenje iz Švedske, a u Hrvatskoj je provedeno na reprezentativnom uzorku od 950 ispitanika u dobi od 15. do 24. godine. Donosi niz podataka o uvjetima života, zadovoljstvu životom, profesionalnim aspiracijama, vrijednosnim sustavima, percepciji ključnih problema, itd., mladih ljudi u Hrvatskoj, s ciljem osnaživanja mladih i razotkrivanja zamki prikrivenih paternalističkih diskursa.
Download pdf.:Youth in Croatia